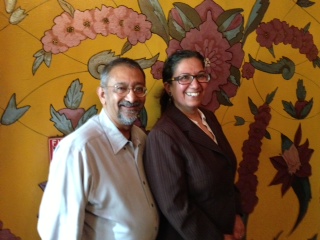 Ranjan Dey
Chef Ranjan Dey of New Delhi Restaurant likes to say that his passion is "to infect everyone with India". To achieve his goal, he has launched a fine dining restaurant, catered thousands of weddings and events, launched a line of exclusive Indian spices, and played an equally dedicated role as speaker.
Over the many years, Ranjan has had speaking engagements at San Francisco's Commonwealth Club, Chamber of Commerce, Indian Chamber of Commerce in Atlanta, Consular Corps of San Francisco, World Affairs Council, SF Chefs, and many other venues.
His talks focus on the topics of nutrition and healthy eating, historic dishes and recipes, culinary cultural travel adventures, eating "mindfully," corporate team building, and the planning of social events.
As the star of the documentary series "My India with Ranjan Dey", he has a way with audiences. Through humor, wit, entertainment, motivation, Ranjan teases out the lesser-known facts of food, and the nuances of eating -- something we do every day, but sometimes forget to savor sufficiently.
Vinita Jacinto
Vinita Chopra Jacinto has been part of the food industry for over three decades. She has a diverse and extensive experience in culinary education, hotel management and nonprofit services. Vinita has been a culinary educator in San Francisco for over a decade, teaching classes that focus around sustainable, philosophy based and health conscious cuisine.
She has worked at the Le Cordon Bleu School, California Culinary Academy for several years and was the Manager and Lead Instructor of CHEFS, a program dedicated to fighting homelessness through employment in the food services industry. Vinita graduated with her degree in Catering Technology and Applied Nutrition from The Institute of Hotel Management in Mumbai, India. Her areas of culinary focus include vegan and vegetarian cuisine, Indian regional cuisines, Ayurveda and Macrobiotic cuisine, Tea cuisine, sustainable food and nutritional cooking.
In addition to her love for all things food, Vinita is a certified Yoga instructor and a student of The Vedas (ancient Indian scriptures). This combination punctuates her entire food philosophy and life. The food concepts are deeply Indian in their inspiration with a strong global appeal and application. "Honoring The Moment" is the basis of her life, food and teaching philosophy.
Mindfully Eating is a perfect union of enjoying food within the moment with a deeper intent!